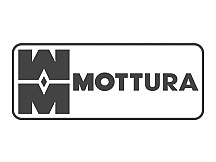 For many years, the Italian company Mottura, the market leader in sun protection and window decoration, has offered the most modern and reliable solutions in selecting cornice systems, roller blinds, wooden blinds and decorative cornices. The quality of products is confirmed by many years of use of cornice systems, the reputation and history of the company.
The product range includes more than a hundred different curtain rod systems, which include outdoor roller blinds, fabric blinds, mechanical curtain rods, Roman curtain rods, simple ceiling blind solutions and systems for textile decoration.
Any cornice, system, blinds or blinds is designed with maximum functionality in mind for any window opening, whims and wishes of the Customer.
The basis of Mottura's policy is only quality products, each part or component of which is made in Europe. The client receives an original European product, completely manufactured by the company according to established standards and requirements.
For the company itself, there is nothing impossible when decorating windows or textile design of a room.
Mottura products include curved cornice systems, sloped windows, Roman curtain poles, and arched and bay windows.
The range of Mottura systems allows you to choose fabric blinds or outdoor roller blinds to cover openings of various sizes while using effective sun protection fabrics that will help cut off temperature and ultraviolet radiation and maintain, for example, an excellent view from the window.
Decorative or wrought iron cornices with tubular cornices of various diameters, colours and other accessories perfectly complement classic cornices.
All modern Mottura curtain rods are presented in the Futura catalogue, where you can find profile products with chrome or satin aluminium controls. Mottura's Futura catalogue also includes stylish roller blinds with various aluminium fittings, perfect for modern interiors and loft-style or minimalist rooms.
Mottura's Hi-Tex technical fabric is a specialized solar control fabric for roller blinds that will help create the right indoor climate while controlling the amount of light, temperature and UV that enters the room.
Mottura contract fabrics are collected in the Master catalogue, which includes Trevira CS flame retardant fabrics and fabrics for hotels and other commercial projects, distinguished by their unique design, excellent performance and affordable cost. In the Master catalogue, you will find fabrics for roof systems, solar control fabrics for roller blinds, and traditional fabrics for curtains.
Mottura wooden blinds are presented in a separate Veniwood catalogue, combining more than ten collections of wooden blinds of various styles and colours. In addition, the Veniwood catalogue also includes leather blinds, golden and lacquered blinds, as well as many other original solutions.
Dealing with cornice systems for interior textile design and window decoration, Mottura could not help but offer its customers textiles for curtains of its collection since an integrated approach to window design is critical. That is why Mottura also has a collection of curtain fabrics called Atelier Mottura, which presents textiles for curtains of various types, including non-combustible Trevera CS and blackout fabrics.
СОРТИРОВАТЬ:
Position: Low to High
Newest
Position: High to Low
from A to Z
from Z to A
Price: Low to High
Price: High to Low
Popular
Curtain rod for heavy curtains Sipario 202
Brand:
Mottura

Mount type:
Wall
Ceiling
Inclined installation

Control type:
Cord
Manual control

Max Сurtain rod length:
1600 cm

Type of curtain rod:
Single

Max fabric weight, kg:
55

4-strip curtain rod Modulo 405
Brand:
Mottura

Mount type:
Ceiling
Wall

Control type:
Cord
Manual control

Max Сurtain rod length:
700 cm

Type of curtain rod:
Quadruple

Max fabric weight, kg:
10

4-strip curtain rod Modulo 406
Brand:
Mottura

Mount type:
Wall
Ceiling

Control type:
Cord
Manual control

Max Сurtain rod length:
700 cm

Type of curtain rod:
Quadruple

Max fabric weight, kg:
10

Lift 939
Brand:
Mottura

Mount type:
Wall
Ceiling

Control type:
Chain

Max Сurtain rod length:
300 cm

Max fabric weight, kg:
8

Curtain rod for draped curtains Slalom 430
Brand:
Mottura

Mount type:
Wall
Ceiling
Inclined installation

Control type:
Cord
Manual control

Max Сurtain rod length:
600 cm

Type of curtain rod:
Single

Max fabric weight, kg:
9

Curtain rod for draped curtains Arco 470
Brand:
Mottura

Mount type:
Wall
Ceiling
Inclined installation

Control type:
Cord
Manual control

Max Сurtain rod length:
600 cm

Type of curtain rod:
Single

Max fabric weight, kg:
12

Curtain rod for curtains Arco 470/2 with vertical rise
Brand:
Mottura

Mount type:
Wall
Ceiling

Control type:
Cord
Chain

Max Сurtain rod length:
300 cm

Type of curtain rod:
Single

Max fabric weight, kg:
2.5

Curtain rod for draped curtains Arco 490/1
Brand:
Mottura

Mount type:
Wall
Ceiling
Inclined installation

Control type:
Cord
Manual control

Max Сurtain rod length:
1000 cm

Type of curtain rod:
Single

Max fabric weight, kg:
10

Curtain rod for curtains Arco 490/2
Brand:
Mottura

Mount type:
Wall
Ceiling
Inclined installation

Control type:
Cord
Manual control

Max Сurtain rod length:
1600 cm

Type of curtain rod:
Single

Max fabric weight, kg:
20

Curtain rod for curtains Ego 480/1
Brand:
Mottura

Mount type:
Ceiling
Wall
Inclined installation

Control type:
Cord
Manual control

Max Сurtain rod length:
600 cm

Type of curtain rod:
Single

Max fabric weight, kg:
6

Draped curtain rod Progetto 420
Brand:
Mottura

Mount type:
Ceiling

Control type:
Cord
Manual control

Max Сurtain rod length:
600 cm

Type of curtain rod:
Single

Max fabric weight, kg:
8

Draped curtain rod Best 421
Brand:
Mottura

Mount type:
Ceiling
Concealed installation

Control type:
Cord
Manual control

Max Сurtain rod length:
600 cm

Type of curtain rod:
Single

Max fabric weight, kg:
7