Curtain rod for draped curtains Slalom 430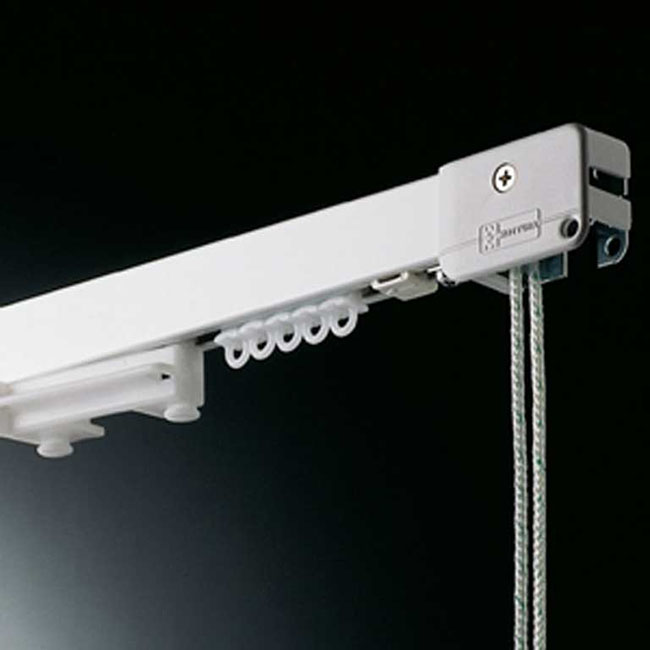 Application

Window

Delimiter

Office

Conference hall

Sunscreen

For home

Hotel

Mounting pictures

Bathrooms

Ships

Bus, van

90 degree angle

Large bending angle

Arch
Image of opening option: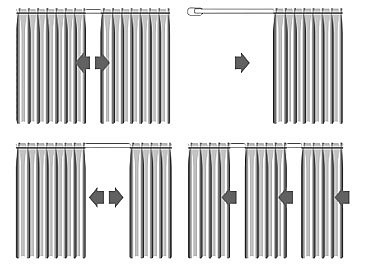 Profile size: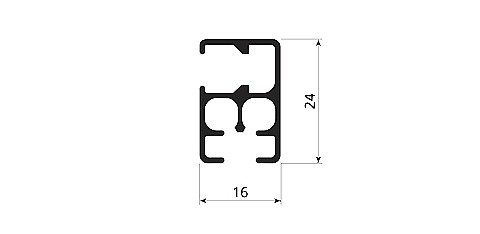 Features:
Артикул:
00000
Accommodation
Внутренние

Bend
90 degree bend
Smooth radius bend

BY APPEARANCE
Technical

Country of origin
Italy

Product type
Curtain rods for draped curtains

Profile height, (cm)
2,4

Profile width, (cm)
1,6

Brand
Mottura

Mount type
Ceiling
Wall
Inclined installation

Control type
Cord
Manual control

Type of curtain rod
Single

Max fabric weight, kg
9

Expand description
Description:
Slalom 430 is a basic aluminium curtain system for drapery curtains with cord operation.
Slalom 430 – is a basic model of a corded aluminium curtain system for drapery curtains from Italian brand MOTTURA. Is a good solution for residential and commercial interiors, it has a cord operation as a standard, but can be produced as a hand drawn system as well.
Besides being considered as a basic model, curtain system Slalom 430 from MOTTURA (Italy) has good functionality and can be used for sheers and light curtains with L max = 600 cm, H max = 500 cm with the weight of no more than 9 kg. The opening of the curtain can be central, lateral, at several points and asymmetric. Drapery track system Slalom 430 can have both ceiling (standard) and wall (optional) fastening with different offsets from the wall. The movement of the cords inside the profile is carried out along independent grooves, which allows the system to be bent at an angle of 90 ° or along a large radius with virtually no damage to the functionality of the system.
This model can be supplied with three options of sliders, but, unfortunately, there is no way to use dependent ones for a "wave" type folding.
By default, Slalom 430 s supplied with a cord operation (225 cm length) and ceiling snap-off brackets, which make this model easy to install.
If you need a curved curtain rod, then using professional bending equipment, we can bend the profile of the Slalom 430 curtain rod along a smooth radius or at an angle of 90 degrees, using the removed patterns or the specified bending parameters.
The standard color of the curtain track Slalom 430 is white (RAL 9016), but if necessary, it can be powder coated in any other color according to the RAL range of colors.
You can easily select and buy a curtain rod for drapery curtains on our website with the delivery all over Ukraine & Europe or You can see in real the products in our authorized showroom "VOGUE INTERIORS", where all Mottura curtain systems are exposed in samples, so that you can choose and order curtain rods in size for your home, apartment or office.
If you are also interested in the installation of curtain tracks, we are pleased to announce that we can measure and install curtain rods throughout Ukraine with our own delivery of purchased systems. The curtain systems are supplied with everything necessary for installation (except mounting hardware and hooks for hanging curtains), so installing the curtain systems on your own will be quite easy and simple.
"TBI" company also has quite big experience in complex window decoration and offers custom made curtains and textile decoration of residential and commercial projects, such as hotels, restaurants and cafes (HoReCa), performing all types of works and services in its own textile atelier.
профиль карниза из экструдированного алюминиевого сплава 6060 Т6 UNI 8278
ширина карниза: 16 мм, высота карниза: 24 мм
желоб карниза: 6 мм
минимальный радиус изгиба карниза:
изгиб на 90°: 12 см, изгиб по плавному радиусу: 50 см
отделка поверхности карниза:
полиэфирная окраска в белый цвет RAL 9016
шкивы карниза изготовлены из противоударного термопластика с колесиками на стальных осях
каретка карниза изготовлена из самосмазывающейся ацеталовой пластмассы: 5,5 см
детали карниза изготовлены из самосмазывающейся ацеталовой пластмассы
| Name: | Article: | Price: грн. | Count: | |
| --- | --- | --- | --- | --- |
| Wall brackets 3 cm (art. 4083) | 4554 | 0,00 | | |
| Wall brackets 5.5 cm (art. 4084) | 4555 | 0,00 | | |
| Wall brackets 7 cm (art. 4084) | 4556 | 0,00 | | |
| Wall brackets 10-15 cm (art. 4142 10) | 4557 | 0,00 | | |
| Wall brackets 16-20 cm (art. 4142 16) | 4558 | 0,00 | | |
| Wall brackets 21-25 cm (art. 4142 21) | 4559 | 0,00 | | |
| Plastic hook for hanging (art. 381) | 4560 | 0,00 | | |
| Nylon hanging hook (art. 385) | 4561 | 0,00 | | |
| Steel hook for hanging (art. 389) | 4562 | 0,00 | | |